This Thursday, November 22nd, Americans will celebrate a day of thanksgiving.  The first Thanksgiving is known to have taken place in the year 1621.  It was a feast between the Pilgrims and the Wampanoag Tribesmen at Plymouth Colony.  According to Wikipedia, that first Thanksgiving meal consisted of waterfowl, venison, fish, lobster, clams, berries, fruit, pumpkin, and squash.  The most popular item in this week's Thanksgiving meal will be turkey.  What sets this holiday apart from others is that it is non-religious and is not restricted to any one ethnicity.  It is the one holiday in America that all religions and all ethnicities come together to celebrate.  According to travel agents and airlines throughout the country, Thanksgiving is the heaviest traveled holiday in the United States.  It is when everyone finds his/her way to families or friends to sit down to a traditional Thanksgiving dinner, regardless of Christian, Jewish, Muslim, Hindu, Buddhist or no religion at all.
Global Woman P.E.A.C.E. Foundation (GWPF) had barely recovered from their busy 2-day event last month, but they hosted a Thanksgiving Feast last Saturday for the monthly Support Group.  The Support Group has met every 3rd Saturday of the month since January this year.  To date, it is the only support group for FGM survivors in the Washington metro area.  GWPF wanted to demonstrate care and love for the young women and girls whom they service, by sharing a special meal with them and their families.  Attending the feast were board members, Amie Jallah, Arnold DeShield, Angela Peabody, Board Advisor, Julie Taitt, Psychologist, Willa Jones, several FGM survivors and their family members, and GWPF's interns, Oshoze Kadri and Irene Okpaghoro.  Surprising the group was former intern, Fatu Drame who received a Global Woman Award last month as a Student Ambassador.
The menu comprised of a combination of conventional American Thanksgiving meal and a touch of West African cuisine.  They had baked turkey, baked chicken, stuffing, cranberry sauce, candied sweet potato, stewed green beans and tomato, baked salmon and jolof rice.  Jolof rice is a traditional West African dish, originated in the Gambia but most countries in that region have made the popular rice dish a favorite on their special occasions menu.  Dessert was apple pie, cake and rice bread.  Rice bread is a popular Liberian brunch item on menus.
Angela Peabody told the group how when she first suggested a support group a few years ago, Amie Jallah, their Vice President asked her where would they find FGM survivors.  She said, she told her, "If we start it they will contact us."  She was right; their phone began to ring with women who had experienced FGM.  They realized how much in need of a support group the Washington, D.C. area was.  Peabody told the group that they are now a family, not just a group of women that meet once a month.  She told them that they are not just candidates for the restorative surgery and therapy.  They make up the family of the organization. GWPF has gained the women's trust, and it is vital to the organization that the women have confidence in them.  Confidentiality and respect are key factors in servicing them.  Therefore they are not shown in the photographs from last Saturday, and their names are not mentioned.
The afternoon was pleasant and enjoyable.  Everyone dined heartily together, laughing, joking and telling stories from their childhood.  The group sang the Happy Birthday song to Amie Jallah, whose birthday is the 26th of this month.  The women from the support group presented Angela Peabody with a 'thank you' card, which read, "From all of us (survivors) we say thank you for your unselfish love towards us and our hurt.  May you live long to enjoy the fruit of your love in the mighty name of Jesus.  You are truly a mother and we are blessed to have you in our lives."  The card was signed, "Love, your daughters."  Peabody said that she regards it an honor to be referred to as the mother of the young ladies.  She hopes that she can continue to give them the love and care that they need in post-FGM years.
GWPF wants to share with you why the organization is thankful this Thanksgiving.  They are thankful for all of the survivors of FGM who are willing to stand with them in the campaign to end the practice.  They are thankful this year for the success of the 5th annual Walk To End FGM.  They are thankful for their many supporters, partners, donors and sponsors; they are also thankful for each person who stops and takes the time to listen as they explain what FGM is.  They are thankful for the universities and conferences that hosted them this year to share with them their work against FGM.  They are thankful for you.  As families gather around their dinner tables this Thursday, what will they be grateful for this Thanksgiving?  Has it been a fruitful year for them?  Has it been a year of drought for them and their families?  Or perhaps they overcame a terrible illness, and they're thankful.  Whatever the reason is for being thankful, let's think about the injustices around the world that women and girls suffer every day.  Let's think about the little girls that will be hauled off into the remote bushes on that very day and parts or all of their external genitals will be excised.  Please think about the more than 200 million women and girls in the world that have been violated through female genital mutilation.
Peabody told the group that beginning in 2019 the support group will implement various ways to expand its service to additional women.  During this year the support group asked the women to complete a feedback form to help the facilitators of the support group know how to improve their services.  GWPF has taken some of those responses into serious consideration for its 2019 plans.  The group is excited at the prospect of the plans for the upcoming year.
Next week Tuesday is #GivingTuesday.  GWPF asks that you join them in the spirit by supporting GWPF.  When you shop this season on Amazon, please choose Global Woman P.E.A.C.E. as your charity of choice.  As you, GWPF's supporters make your purchases from Amazon.com, please do so by supporting us at: https://smile.amazon.com/ch/42-1690778 and Amazon will donate to Global Woman P.E.A.C.E. Foundation.  #StartWithaSmile at https://smile.amazon.com/ch/42-1690778 and Amazon will donate to Global Woman P.E.A.C.E. Foundation.  We appreciate your donations and wish you happy shopping!  We wish you a happy and safe Thanksgiving!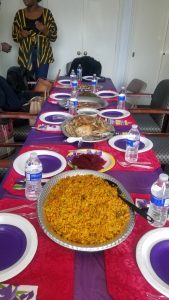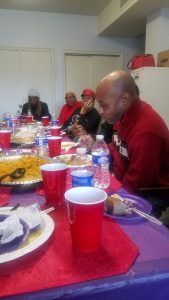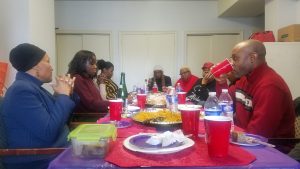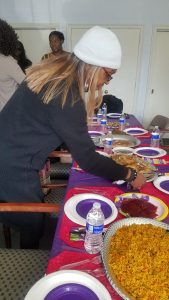 Comments and questions to info@globalwomanpeacefoundation.org or call (703) 818-3787