2020 Walk To End FGM Registration Opens April 1, 2020
Global Woman P.E.A.C.E. Foundation (GWPF) is pleased to announce that registration for the 7th Annual Walk To End FGM will be on Wednesday, April 1, 2020, and it is not an April Fool either.  The 2020 Walk To End FGM is scheduled for Saturday, October 17th on the Washington National Mall.  Started in 2014, Walk To End FGM is a 5K charity walk-A-thon against female genital mutilation (FGM).  FGM is the partial or total removal of the external female genitalia for non-medical reasons.  Most girls undergo FGM when they are between 5 and 15 years old.  Practiced for more than 5 centuries, FGM made its way to Europe, the U.K., Australia and North America due to the continuation of the practice.  The purpose of the Walk to End FGM is to raise awareness about the practice of FGM and to raise funds to support GWPF's programs.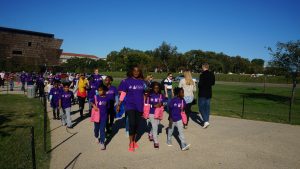 To Get Involved and Participate in the Walk To End FGM:
Form a team and invite others to join your team and help raise funds
Join a team that is already formed
Register as an individual participant
Register on April 1st as a virtual participant and help raise funds (if you are unable to attend)
Sponsor a team or an individual participant or sponsor the event
Be a Partner Organization with Global Woman P.E.A.C.E. Foundation in the Walk to End FGM
Register as a volunteer on April 1, 2020
To volunteer, contact us at info@globalwomanpeacefoundation.org or call 703-832-2642.  Register on April 1, 2020 at www.globalwomanpeacefoundation.org and Walk to End FGM.
Global Woman P.E.A.C.E. Foundation is a registered 501c3 non-profit organization with the U.S. Internal Revenue Service.  As such, your donations and registration fees are tax deductible to the maximum extent required by law.
Comments and questions to info@globalwomanpeacefoundation.org or call (703) 832-2642