Global Woman Awards
Due to the restrictions of COVID-19 and social distancing, this year's event Global Woman Awards will be held virtually through livestream broadcast on Friday, October 16th at 3:00pm, Washington, D.C. / New York Time.  The Board of Directors of Global Woman P.E.A.C.E. Foundation (GWPF) decided to plan for a virtual 2-day event this year, in lieu of the usual in-person event.  Planning for the 2-day event takes several months, and since there is no set date in the foreseeable future of the country returning to normal public gathering, GWPF has decided to plan for a virtual event.  GWPF cares about the health and safety of their supporters and participants therefore we will feel more comfortable in a virtual event.
With only 100 days left before the livestream broadcast of the Global Woman Awards, GWPF invites you to join them on Friday afternoon / evening, October 16th to support their 2020 Awardees, and their survivor and prevention programs.  The evening is expected to be emceed by Tyra Garlington, local, national and international talk show host of Frankly Speaking.  You will hear speeches from Keynote of the day, Lyric Thompson, Senior Director of Policy and Advocacy at the International Center for Research on Women (ICRW) and from Maryum Saifee, a women's rights activist and leading voice in the movement to advance gender equality and in particular, bring about an end to Female Genital Mutilation. Nine Awards will be given to deserving men and women in the categories of Lifetime Achievement, Education/Training, Advocacy, Survivor Activist, Man of the Year, Student Ambassador, Policy-Making/Legal, Medical/Health, and Lisa C. Bruch Woman of the Year.  This year, they will even have entertainment from Jazz Artist, Benjamin Jackson Caesar, America's Got Talent Singer, Antoinette "Butterscotch" Clinton, and Grammy Nominated R&B Artist, Cyrus DeShield.  Don't miss out on the Raffle items either!
Remember to register at:


Stay tuned for the announcement of the 2020 Awardees, and more exciting news in this month.
Walk To End FGM
Registration is officially open, effective immediately.  As with the Global Woman Awards, Global Woman P.E.A.C.E. Foundation (GWPF) will hold the Walk To End FGM as a virtual event.  Perhaps you wonder, "How will a walk be virtually held?"  In this COVID-19 pandemic, the world has witnessed in-person meetings, parties, worship services, and other events transform into virtual livestream broadcasts.  Instead of the usual annual 5K Walk, this year's walkers may choose the number of miles or kilometers they plan to walk, and have their local merchants sponsor them, by matching their miles or kilometers to a dollar amount. Participants are asked to walk in their local communities, take photos or videos and send them in to GWPF to be posted to Social Media and the website.  The pre-Walk To End FGM program will be held on Saturday, October 17th at 10:00am. The Keynote of the day is Heather Sirocki, for State Representative of Maine, and an advocate against the practice of FGM.  Every effort will be made to have everything we have done, annually since 2014, with the exception of physically walking together.  So please register, form a team, join a team, and help to fundraise.  This year will be different but fortunately for technology, GWPF will still host the Walk.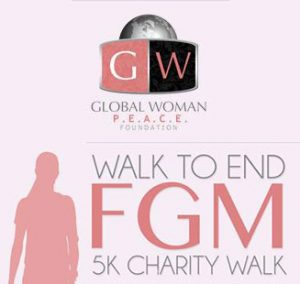 Monthly Support Group – Our Support Group will meet this month on Saturday, July 18th at 3:00pm Eastern Time, via GoToMeeting Conferencing.