We are almost there, participants!  Time is rapidly approaching – yes, it is only 2 days until the Global Woman Awards and 3 days from the Walk To End FGM (#walk2endfgm).  There is still time to register if you have not yet done so.  Are you excited yet?  Get prepared!  Register at https://www.wizathon.com/walk2endfgm/, and be a part of a memorable event of its 6th and 7th year respectively.  Please text your donations in advance to (571) 336-0030.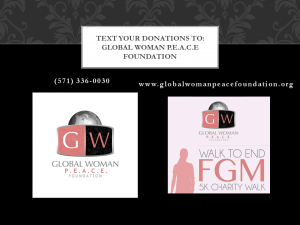 We feature our 3 entertainers of the event, today, Wednesday, October 14th: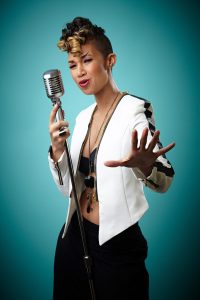 Our Friday Female Entertainer, Butterscotch is an American singer/songwriter/musician.  Although she is heavily influenced by jazz, classical, hip hop and R&B artists, she incorporates beatboxing into her compositions with instruments she plays, including the piano, flute, saxophone, bass and guitar. After high school Butterscotch was accepted into the music program at California State University Sacramento as a Classical Piano Major but after a couple years she was touring so much and decided to pursue her dreams of making it in the musical world.  Now Butterscotch is an internationally recognized vocal artist, most popularly known from her appearance on NBC's "America's Got Talent" as a finalist. Prior to America's Got Talent, Butterscotch claimed titles as both the first International World Female Beatbox Champion and the West Coast Beatbox Champion for both genders. Butterscotch has made such an impact on young women, she was even the inspiration of a teenage girl to be transformed into a beatboxer on MTV's MADE and also performed on Tyra Banks show encouraging another young talented female beatboxer to continue working to be on top.  She has opened up for Wyclef Jean, Will.I.AM, Fishbone and many more. Last summer Butterscotch received the honor to record with the legendary bass trio Stanley Clarke, Marcus Miller and Victor Wooten on their album and is also guest artist on the George Benson project, "Songs & Stories".  She has toured in Australia, Germany and Hong Kong and continues to live her dream of touching the world with her music.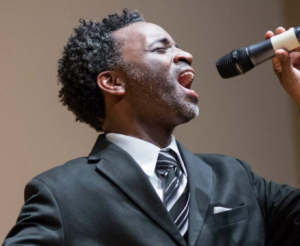 Our Friday Male Entertainer is Benjamin Jackson Caesar, who is an American singer, songwriter, recording artist, arranger, producer, and educator from Oklahoma City.  His notable instruments are piano and percussion. Caesar is one of Washington, DC's prominent male vocalists. He is praised for his distinguished stage presence, extended high range, lyrical, clear and light tones, fine diction, song interpretation and phrasing.  Caesar's versatility has wowed audiences with his talent and skills, performing in four languages and five genres and attracting crowds of various ethnic backgrounds. He is also known for his recital/concert work within the DC Metropolitan areas including performances with the Symphony Orchestra of Northern Virginia, Jeff Dokken, conductor.​  His professional music career began (Spring 2009) in Washington, DC.  Caesar is fortunate to have had a career constructed on "word of mouth" via his fans and supporters.  Often, he is called upon to sing for: Weddings, Funerals, private parties, churches, recitals, concerts and other special events.  His music performance and education studies are from the University of the District of Columbia, Private studies at Oberlin and Shenandoah University, (Conservatories) with an emphasis in Voice Pedagogy (CCM) Contemporary Commercial Music.  Caesar began singing in the church at the age of six and professional voice training at age 16.  He has held many leadership positions in the church, school, university, business and corporate levels.  He has performed on many platforms; such as the Kennedy Center, DAR Constitution Hall, Lafayette Park (White House Grounds), World Bank, and many more.  In addition, various productions and performances such as: Pop entertainer for Six Flags, Langston Hughes, "Don't You Want to Be Free?", "Ragtime," Broadway production at the Lincoln Theatre (DC), "Treemonisha," A Scott Joplin Opera, Gilbert and Sullivan (Operetta's)-The Washington, DC Savoyard, He has taught and accompanied, the Production, "KIDS" at the Kelsie Collie Children's Musical.  He teaches music from pre-K through 6th grade.  Caesar teaches voice, piano, Spanish, public speaking and acting.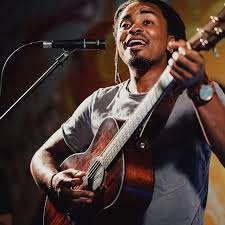 Our Saturday Entertainer is Royce Lovett, who was named after the Rolls-Royce luxury car, and was raised in a Christian household and began singing in church, where his mother led worship. He taught himself guitar, started writing music and got his first gig at a local pizza shop in the 11th grade. After high school, Royce got married and had two kids, all while chasing his dream to play music. While he's had some success, he's also had some ups and down supporting his family financially.  He appeared on the television show, The Voice to show his children that success is not measured by money, but by living out your dream.  Royce's sound is categorized in his own personalized genre "cerebral-soul." He says his music makes people tap into their intellect. "Music can motivate you to change, get into your mind and into your soul," Royce says. "It's a ripple effect from one place to another." He commonly uses this motivation in performances by involving the crowd, and making fans feel in touch with the music. Whether it's a simple snap or "getting lost in the music" Royce makes his audience a part of the music.  Lovett's guitar is his musical weapon. It has helped to define his sound and influence his career.  Royce's personal motivation has paved the way for his many accomplishments in music, and although he manages himself, Royce has a large support group to cheer him on.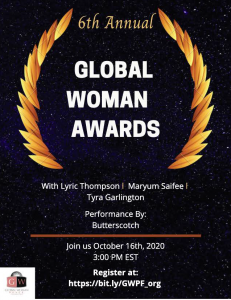 Global Woman Awards – Friday afternoon, October 16, 2020:
We will collaborate with SheFFA Foundation and George Washington University in collectively honoring 5 women, 4 men and a secondary school student.  They will receive the Global Woman Award in 9 different categories.  To read about all of our 2020 honorees, visit https://www.wizathon.com/walk2endfgm/?id=4945.
Friday Itinerary:  3:00p.m. Global Woman Awards, Keynote Speech from Lyric Thompson of ICRW, a speech from Maryum Saifee, and musical entertainment from vocalist "Butterscotch" and jazz vocalist and musician, Benjamin Caesar.
Friday afternoon emcee:  Tyra Garlington, International Talk Show Host
Friday Location:  Virtual Zoom livestream broadcast – link and e-program are now being provided this week.  Check your email inbox for link and e-program.


Walk To End FGM – Saturday morning, October 17, 2020:
Former Maine State Representative, Heather Sirocki is our Keynote Speaker of the day, and we will be joined by guitarist and vocalist, Royce Lovett, who will serenade us before we take to the streets in our respective communities to safely walk, observing the social distancing requirements.  We hope you will join us. To read about our 2020 speakers, entertainers and Emcees, visit https://www.wizathon.com/walk2endfgm/?id=4946.
Saturday Itinerary:  Pre-walk program starts at 10:00a.m. – the walk starts at 11:30a.m. Please take photos and/or videos of you walking and post them to our Facebook page.  We will compile a collage in memory of the year 2020 when our lives changed, and every life that was lost to COVID-19.
Saturday morning emcee:  Linord Moudou, International Talk Show Host
Saturday Location:  Virtual Zoom livestream broadcast – link and e-program is now being provided this week.  Remember to check your email inbox for link and e-program.
Special Saturday Prizes to:  Teams that raise the 4 highest amounts.  The competition is rising, especially between Teams Jacqui Olkin and Marin Hoang.  We have great special prizes this year.  It is not too late to form a team or join one.  Get in on the competition!  You may select the number of miles or kilometers you will walk, and get your local merchant(s) to sponsor each mile with a dollar amount to help us raise funds.  Text your donations in advance to (571) 336-0030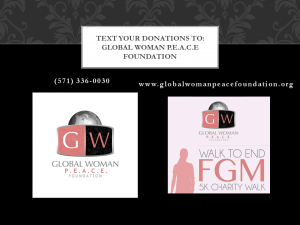 Ways to Participate
Form a team and invite others to join your team and help raise funds
Join a team that is already formed
Register as an individual participant
Sponsor a team or an individual participant or sponsor the event
Be a Partner Organization with Global Woman P.E.A.C.E. Foundation in the Walk to End FGM


Contact us at info@globalwomanpeacefoundation.org or call 703-832-2642.  Also register at www.globalwomanpeacefoundation.org and Walk To End FGM.  Text your donations in advance to (571) 336-0030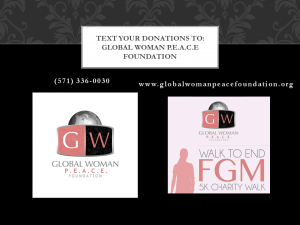 Don't Miss Out!!!
********We are reminding you to register if you have not done so******** 
The proceeds raised from the Walk To End FGM are used to support the mental and physical health of survivors of FGM/C, including group and one-on-one counseling. Proceeds will also help keep Liberian and Sierra Leone girls in school to prevent them from undergoing FGM/C. To read about our 4 programs visit https://www.wizathon.com/walk2endfgm/?id=4940.


Thank You for Your Support!
Global Woman P.E.A.C.E. Foundation is a registered 501c3 non-profit organization with the U.S. Internal Revenue Service.  As such, your donations and registration fees are tax deductible to the maximum extent required by law.