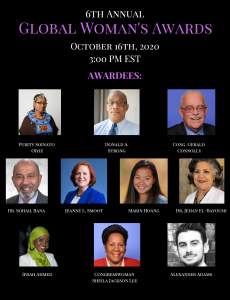 We are almost there, participants!  Time is rapidly approaching – yes, it is only 24 hours until the Global Woman Awards and 2 days from the Walk To End FGM (#walk2endfgm).  There is still time to register if you have not yet done so.  Are you excited yet?  Get prepared!  Register at https://www.wizathon.com/walk2endfgm/, and be a part of this memorable event.  Remember, we will be compiling a special collage from this year's event to remember 2020 when we went "virtual". Join in so your photo and/or video will be included.   Please text your donations in advance to (571) 336-0030.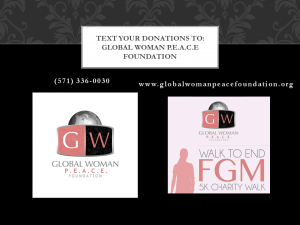 Yesterday, we featured our 3 entertainers of the event.  We wish Happy Birthday to our Friday Male Entertainer today, Jackson Caesar!  Today, October 15th, our Thursday feature is our Mistress of Ceremony, Tyra Garlington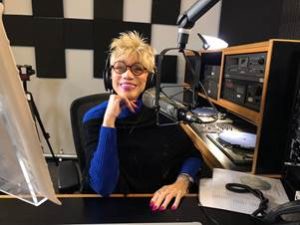 Our Mistress of Ceremony is Tyra Garlington, an author, inspirational speaker, local, national and international talk show host, business owner and survivor.  They coined the term "steel magnolia" to describe a Southern woman whose delicate exterior belies an unbreakable core.  Although she is not Southern by birth, Tyra Garlington's life and professional experiences give the right to "steel magnolia" as her own. The Cincinnati native holds a master's in psychology from San Diego State University.  Tyra has been a teacher and principal, whose belief in the ability of children to rise above their bleak surroundings helped to turn around an entire school.  She has been a member of the clinical staff at University of California, San Diego, helping tormented individuals find their way to peace. She has worked at IBM as a marketing consultant for 22 years, in higher education administration, and local, state and federal governments.  She has been a volunteer mentor and Education Pillar Chair on the Board of Leadership Fairfax, in Fairfax Virginia, guiding the development of the next generation of leaders and setting the course for the educational goals of the program. She continues to deposit in this and future generations through her servant leadership in Rotary International, several ministries in her church, and life skills coaching.  When Tyra enters a room, people see the smile, the style and grace.  She says she is always blessed.  She calms the jittery nerves of young speakers and is herself the quiet calm at the center of any storm – even those in her own life.  For Tyra Garlington, there have been many obstacles.  She has suffered abuse, a brain tumor, loss and cancer and she stood her ground against each one, calling on her unlimited faith and belief in God.  In typical "steel magnolia" fashion, Tyra Garlington turned her internal pains into talks that would help others who faced insurmountable odds.  She is drawn to charitable and service organizations that tackle domestic violence, homelessness and children who live in worlds they cannot control. The Steel Magnolia from the Mid-West will be there to help them.  Tyra believes that nothing that has happened in her life will be wasted.  Her next chapter will be shaped by her need to continually learn, engage, and encourage others both personally and professionally.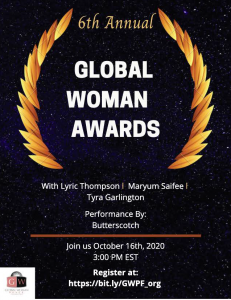 Global Woman Awards – Friday afternoon, October 16, 2020:
We will collaborate with SheFFA Foundation and George Washington University in collectively honoring 5 women, 4 men and a secondary school student.  They will receive the Global Woman Award in 9 different categories.  To read about all of our 2020 honorees, visit https://www.wizathon.com/walk2endfgm/?id=4945.
Friday Itinerary:  3:00p.m. Global Woman Awards, Keynote Speech from Lyric Thompson of ICRW, a speech from Maryum Saifee, and musical entertainment from vocalist "Butterscotch" and jazz vocalist and musician, Benjamin Caesar.
Friday afternoon emcee:  Tyra Garlington, International Talk Show Host
Friday Location:  Virtual Zoom livestream broadcast – link and e-program are now being provided this week.  Check your email inbox for link and e-program.


Walk To End FGM – Saturday morning, October 17, 2020:
Former Maine State Representative, Heather Sirocki is our Keynote Speaker of the day, and we will be joined by guitarist and vocalist, Royce Lovett, who will serenade us before we take to the streets in our respective communities to safely walk, observing the social distancing requirements.  We hope you will join us. To read about our 2020 speakers, entertainers and Emcees, visit https://www.wizathon.com/walk2endfgm/?id=4946.
Saturday Itinerary:  Pre-walk program starts at 10:00a.m. – The walk starts at 11:30a.m. Please take photos and/or videos of you walking and post them to our Facebook page.  We will compile a collage in memory of the year 2020 when our lives changed, and every life that was lost to COVID-19.
Saturday Location:  Virtual Zoom livestream broadcast – link and e-program is now being provided this week.  Remember to check your email inbox for link and e-program.
Special Saturday Prizes to:  Teams that raise the 4 highest amounts.  Competing in the Top 4 spots are Team Jacqui Olkin still in 1st place, Team Marin Hoang holding in 2nd place, and Team NANBPWC 2020 has moved back into 3rd place.  Team Karen McDonnell is now in 4th place.  Who will get those lovely prizes this year?  Stay tuned for an update tomorrow.  It is not too late to form a team or join one.  Get in on the competition!  You may select the number of miles or kilometers you will walk, and get your local merchant(s) to sponsor each mile with a dollar amount to help us raise funds.  Text your donations in advance to (571) 336-0030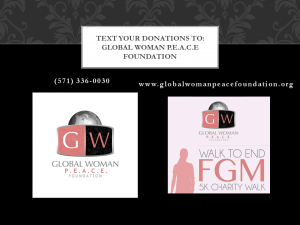 Ways to Participate
Form a team and invite others to join your team and help raise funds
Join a team that is already formed
Register as an individual participant
Sponsor a team or an individual participant or sponsor the event
Be a Partner Organization with Global Woman P.E.A.C.E. Foundation in the Walk to End FGM
Contact us at info@globalwomanpeacefoundation.org or call 703-832-2642.  Also register at www.globalwomanpeacefoundation.org and Walk To End FGM.  Text your donations in advance to (571) 336-0030


Don't Miss Out!!!
********We are reminding you to register if you have not done so******** 
The proceeds raised from the Walk To End FGM are used to support the mental and physical health of survivors of FGM/C, including group and one-on-one counseling. Proceeds will also help keep Liberian and Sierra Leone girls in school to prevent them from undergoing FGM/C. To read about our 4 programs visit https://www.wizathon.com/walk2endfgm/?id=4940.


Thank You for Your Support!
Global Woman P.E.A.C.E. Foundation is a registered 501c3 non-profit organization with the U.S. Internal Revenue Service.  As such, your donations and registration fees are tax deductible to the maximum extent required by law.