F. A. Cole is one of the most outspoken survivors of female genital mutilation (FGM) one could ever meet. She is courageous, energetic, spirited and a champion in her own right. F. A. Cole is a real survivor not only of FGM, but rape, molestation and a war-torn country. She never hesitates to admit that she survived FGM, and other types of gender violence. In fact, Cole has a knack of relaxing her audience, when she speaks to them about her experiences with gender violence. She has a way of inserting humor in her story to draw laughter from her audience. F.A. Cole always knew that she wanted to meet the man of her dreams, get married and live happily thereafter. However she wanted a special kind of man who possessed the qualities of what she perceived to be the 'right' man.
It was approximately seven and a half months ago when F.A. Cole met that special man of whom she had so long dreamed. She told Global Woman Newsletter (GWN) how on her first date there was a sudden thunderstorm just as she stepped out of the car. She wondered if God was trying to tell her something; she figured it was either a positive or negative message. Based on recent developments in her life, it is evident that the message was nothing but positive. It did not take her 'right man' to realize the true qualities of F.A. Cole; he proposed marriage to her. Cole told Global Woman Newsletter that the proposal was not the traditional type of proposal, where the man gets on one knee. She said she hates that type of proposal. She said, she actually does not remember how he officially proposed. "He asked me if I'd marry him in several conversations, and each time I said 'sure I'll marry you'."
On Saturday, April 13, 2019 in Glen Allen, Virginia, F. A. Cole was joined in marital union with Timothy Whitlock of Southern Virginia. When asked how she felt when she said her vows, F.A. Cole said she was not sure of her own feelings but she certainly felt blessed and highly favored when Timothy recited his vows to her. "It takes God to have someone love another unconditionally. When Tim looks at me he doesn't see my past. He sees my 'now' and 'our future' and that's what I prayed for years." Part Irish and part Native American, Timothy Whitlock's Native American roots are from the Algonquin Powhatan Region. The groom jokes and refers to himself as a "Mott". The couple wanted a very small and private ceremony and according to Cole, "God came through for us by giving us a location at The Crossings Hotel and Conference Center in Glen Allen, Virginia. I remember the first time I went there I said to myself, 'I'd love to have my wedding here'. Seven months later I did." The Crossings Hotel was once an exclusive golf club with amazing landscaping, but was sold and turned into a hotel.
With only 3 weeks of engagement, F.A. did not have much time for planning and going trousseau-shopping. However her perfect-fitted dress was designed by Vchic Designs, who only had 2 weeks to design the dress and have it fitted only once. "My designer worked magic and delivered exactly what I wanted; simple, yet elegant." The groom's attractive shirt has a significance; it is a specially made "Ceremonial Medicine Shirt" designed for and given to him during a ceremony. It has two animals, a turtle in the front, and an owl in the back, which is his Native name – Turtle Owl. "Really cool", remarked Cole, who continued, "I know the meaning of the name but not sure if I can share that with the world." According to Cole, they plan a future wedding in a church later this year. "I'm already looking at designs for our church wedding in October."
After undergoing clitoral restorative surgery (CRS) in September 2017, Cole had vowed to save herself for her future husband. Asked now how the surgery has helped since her marriage? "Still learning and getting used to my 'new toy'. I will have a better answer in six months. Tim is very patient and understanding and for this, I'm extremely thankful to God. God had me in mind when He created Tim because we 'fit' perfectly. This was a concern of mine, but my fears were laid to rest." Having experienced FGM at the age of 11 in her native Sierra Leone, F.A. Cole set out to defy the odds and the threats of what would happen if she disclosed what was done to her. Instead of keeping quiet, she became a spokesperson for not only herself but for all survivors of FGM.
Cole is embracing all positive occurrences these days. She recently became the second youngest member of Global Woman P.E.A.C.E. Foundation's Board; she is now the wife of the perfect Southern gentleman; she recently started a survivor-only support group for FGM survivors. GWN asked her how she feels to be a mentor to other survivors, she responded with confidence, "Being a mentor to survivors of FGM contemplating restorative surgery has been very rewarding. Being an advocate is not just about speaking up for those who can't and not just about fighting for the rights of the oppressed. It is also about creating a safe space for the wounded, hurt, betrayed, and hopeless. I am a safe place where survivors have found and I make time for my sisters who reach out via email, YouTube comments on my videos, or by phone. I am to them the person I didn't have when I needed help. A number of these survivors found me via my F.A. Cole YouTube channel where I have video chronicles of my clitoral restorative surgery." She continued, "One such woman is scheduled to have the surgery funded by Global Woman P.E.A.C.E. Foundation in a week. I have referred those in Europe to the Women Safe Center in Paris headed by Dr. Pierre Foldes. Some of these women reached out to other FGM survivors who are global advocates, but their pleas for help and support were ignored. This truly vexes me because we are to support one another. Since January 2019, I get at least 2 contacts monthly and I love it. As busy as I am, I make time for my sisters." Cole said their experiences of FGM may be different, but their pain is the same.
F.A. Cole concluded her interview with GWN, "Lastly, I have the privilege of leading a survivors-only support group – the only one in the Washington, D.C. Metro area through Global Woman P.E.A.C.E. Foundation, where survivors meet and talk about the impact FGM has had in their lives. Our first meeting was a success. We had women who had never before discussed FGM with any one, and now they talk freely about how this practice has affected their marriages and other relationships." Cole believes that if being a safe place for the women is all she does, hence, she will die happy knowing that she made a difference in their lives. However GWN believes that Cole has a lot more work on this earth to accomplish, and this is only the beginning of what is to come.
Global Woman P.E.A.C.E. Foundation congratulates F.A. Cole and Timothy Whitlock on finding each other, and tying the knot of their life together.  Only happiness is wished for their future.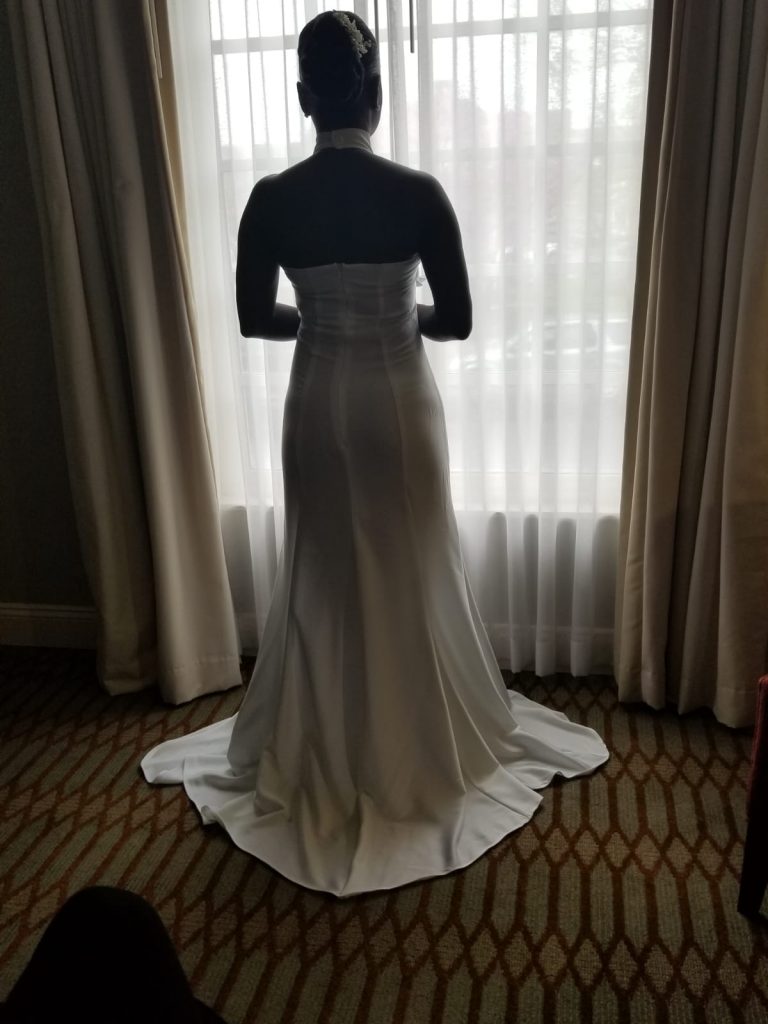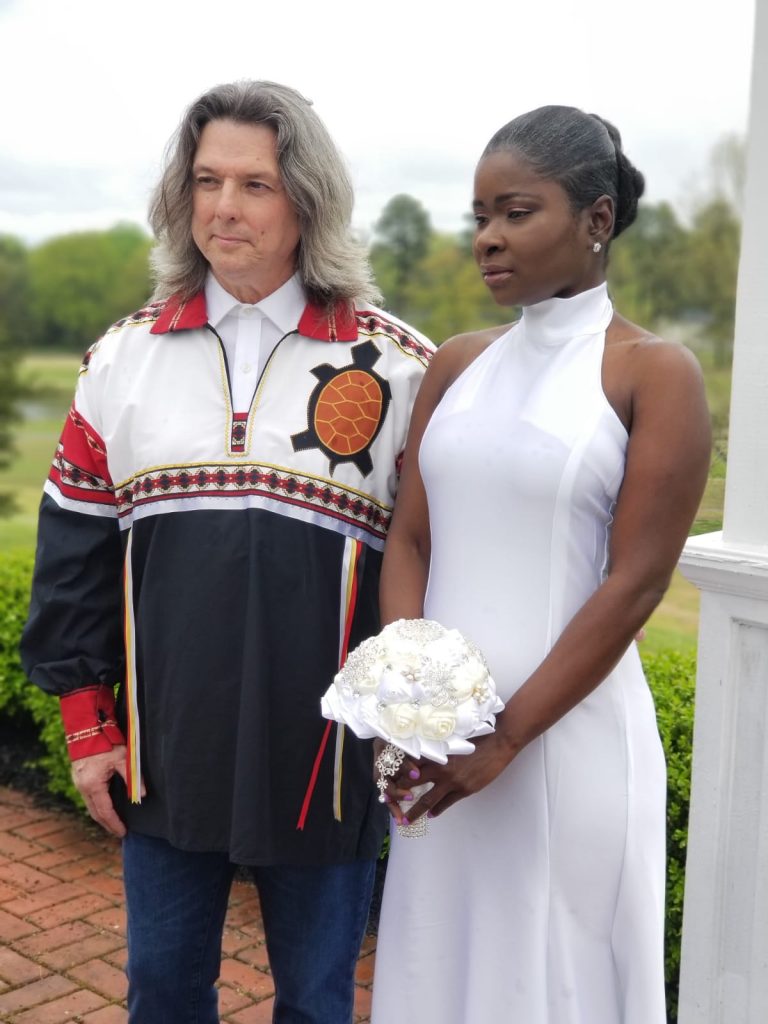 Comments and questions to info@globalwomanpeacefoundation.org or call (703) 832-2642