Last Friday, April 26th Global Woman P.E.A.C.E. Foundation (GWPF) partnered with Inter-African Committee-USA (IAC-USA) to participate in the Global Classrooms Washington, D.C. It was the 15th Annual Spring Model United Nations Conference, hosted by the U.S. State Department and the United Nations. Global Classrooms DC is the flagship education program of the United Nations Association of the National Capital Area. The Global Classrooms work with a diverse group of students from 6th through 12th grades. Although many of the students in attendance were from communities in Washington, D.C., Virginia, and Maryland, there were also students from abroad. Several months prior to the day of the conference, the teachers and coaches of participating students work with them to strengthen their key skills. The goal is to develop a comfort level in public speaking, negotiating, and writing while expanding their understanding of global issues.
This year's conference included more than five hundred middle and high school participants from over 30 groups and schools, including children from IAC-USA and GWPF. The students discussed such topics as Promoting Women in Peace & Security, Ending Modern Slavery, and Creating Youth Employment, among others. With most of the countries in the world represented with various committees, the students brought together many perspectives and ideas to solve these enormous global challenges. What makes a student eligible to attend this conference? Students are eligible if they are middle or high school students. To apply, students must submit a 400-word essay on "What Does UN Model Mean to Me?" The essay will be posted to the UNA-NCA Blog. Applicants must also submit a 500-word draft of their opening remarks with the name of their school or their Model UN group. When students apply, they and their educators or coaches are advised that they need to respect the space of the conference, and behave accordingly at Global Classrooms DC Model UN Conferences. Any inappropriate and unprofessional behavior could result in their school or group being unable to attend future conferences.
Global Classrooms DC conference is on a first-come first-served basis. By registering early will help ensure the group's or school's attendance. All changes in registration must be communicated with the Global Classrooms DC office as soon as possible; this is due to the capacity of the building, and there are no guarantees that changes in registration can be accommodated. The Middle School student delegates from the IAC-USA and GWPF U.N. Model Group were Benedict M. Conteh and Nadia DeShield, representing Ireland; Adam Keita and Fatima Dibba, representing Sudan; Fanta Kande and Fatou Paye representing Belgium. The one Secondary School student delegate from the group was Kadija B. Diallo, who represented Vietnam. The educators and coaches of this Model Group were Djessou Kouyate, Angela Peabody and Aissata Bangoura-Paye.
The student-delegates and their educators piled in the Dean Acheson Auditorium at the State Department on the early morning of April 26th. The auditorium was named after a diplomat, Acheson who was unafraid to stand his ground for what he believed. The President of the UN Association of the National Capital Area, Stephen Moseley opened by reminding the student delegates that several of the students from 15 years ago are now working for USAID, US State Department and the United Nations. Moseley said, "You will demonstrate today your knowledge and skills in multilateral diplomacy, which is practiced every day by American diplomats in New York, Geneva, Rome, Nairobi, Montreal, Paris, and all over the world." He continued, "As you debate and negotiate resolutions, you will communicate in a civil way with people with whom you disagree; you will draft clear resolutions, solve problems, and manage conflicts." Moseley mentioned that the skills they learn today will strengthen them and become essential to the work of diplomacy, and to the lives of everyone in the schools, the local communities, and their homes. Moseley told the children that it is the role the United Nations plays in the world when it brings peace among nations.
In her speech, the Global Classrooms DC's 2019 Student Secretary-General, Fatemeh Naghavinia told the student delegates, "An important aspect of being involved in Model UN (MUN) is how it facilitates research and teamwork skills, along with the aptitude of public speaking." She continued, "The blessing of having MUN as a platform for everyone from every race and every religion to be able to freely express their opinions is an esteemed privilege." Naghavinia said, "I, as a hijabi, Iranian-American Muslim have always been encouraged to express my thoughts and opinions, and to never be afraid to stand up for what I believe in. MUN nurtures that sense of responsibility, and encourages me to not only educate myself about ongoing problems, but also to work as a delegate in a communal force aimed at advocating for the silenced."
The students came together to discuss pressing international issues. Past keynote speakers at this event have been former U.S. Secretary of State, Hillary Clinton, Special Adviser for Global Youth Issues, Andy Rabens, and Munira Khalif, Youth Observer to the U.N. This year's Keynote Speaker was Vivian Lowery Derryck, Founder and President Emerita of the Bridges Institute, a nonprofit organization. Derryck founded her institute to help strengthen and develop African governance and democracy through social development projects and policies. She told the student delegates that there is a 47-year difference between their present position and their future. She expressed her delight in the fact that the African Union recently created a Youth Envoy to represent the youth from Africa at the United Nations. According to the Global Classrooms MUN, Ms. Derryck has focused on promoting sustainable development in education, political participation, conflict resolution, leadership development, and women's leadership in Africa, Asia, and the Caribbean.
In observing the student-delegates as they offered suggestions, made speeches, gave arguments, made motions, voted on issues, and presented resolutions on the global issues, Global Woman Newsletter came away knowing without a doubt that many of those students in another 15 years will be working at the United Nations.  Some of them could very well be future leaders of nations.  So when Fatemeh Naghavinia said, "It was MUN that gave me the confidence to speak out, to voice my opinions and concerns to the world, to believe that I can, and WE CAN shake the world", there is definitely no doubt that these delegates will shake the world when they are, not only adults, but young adults.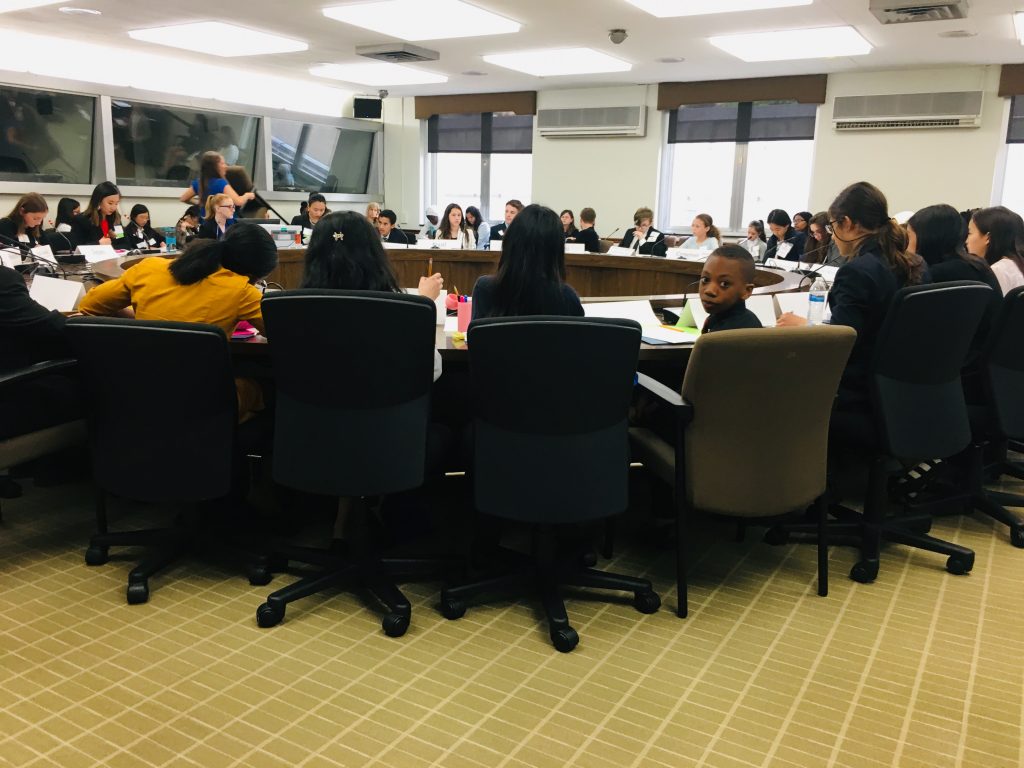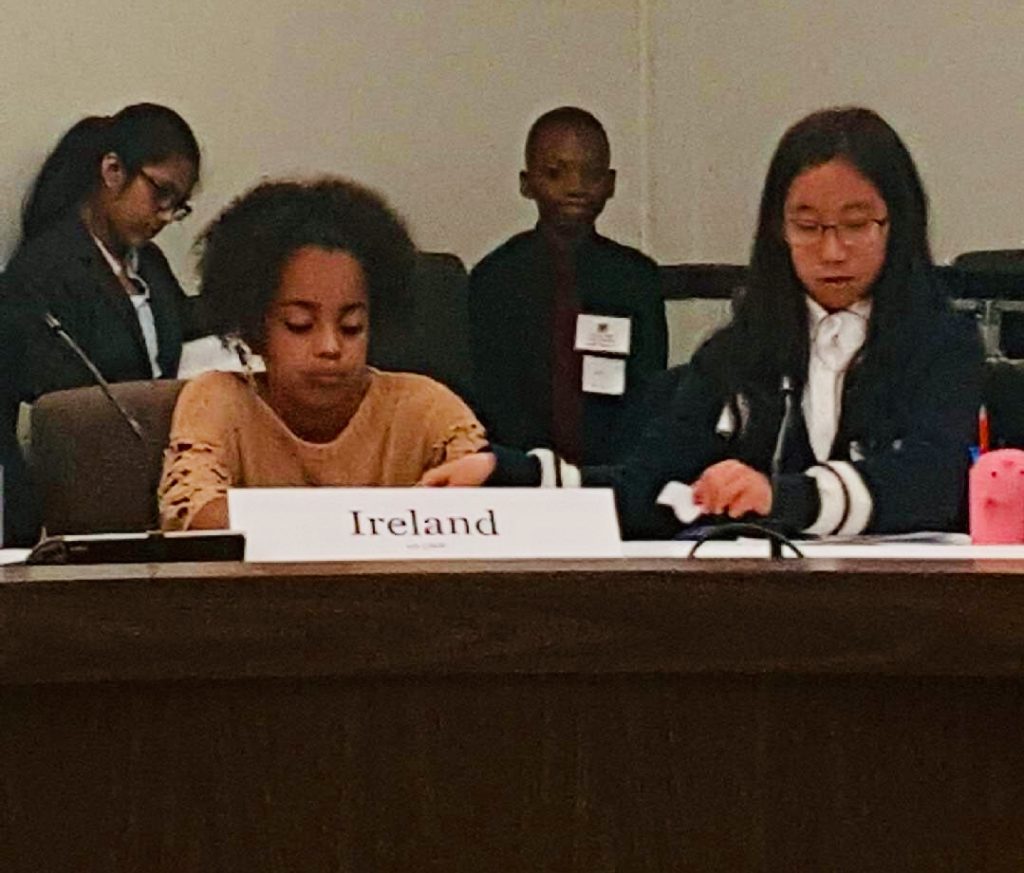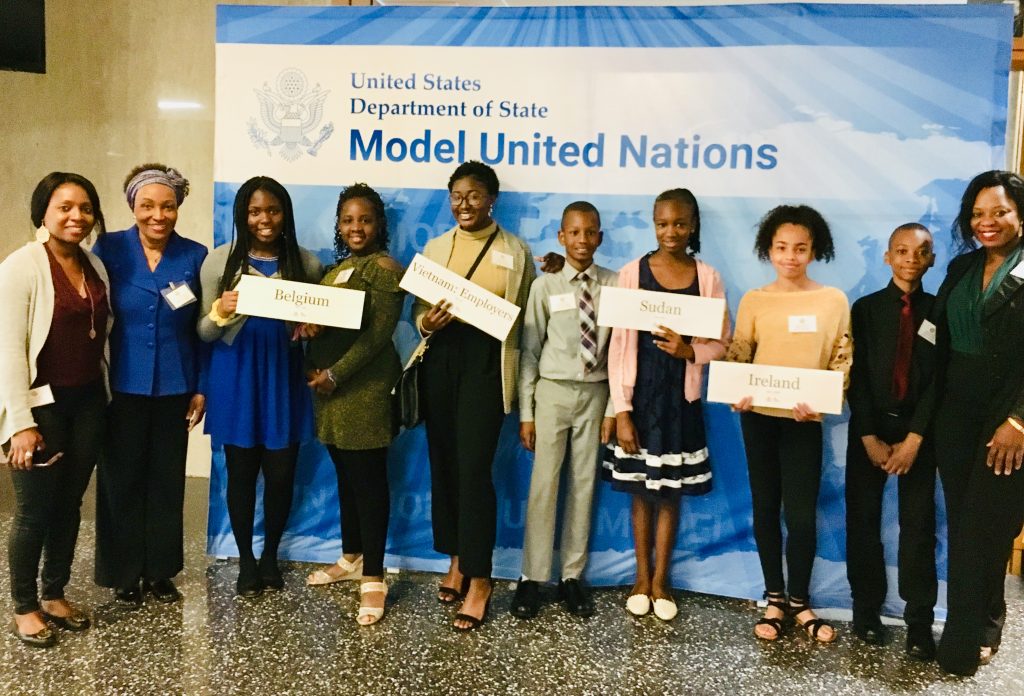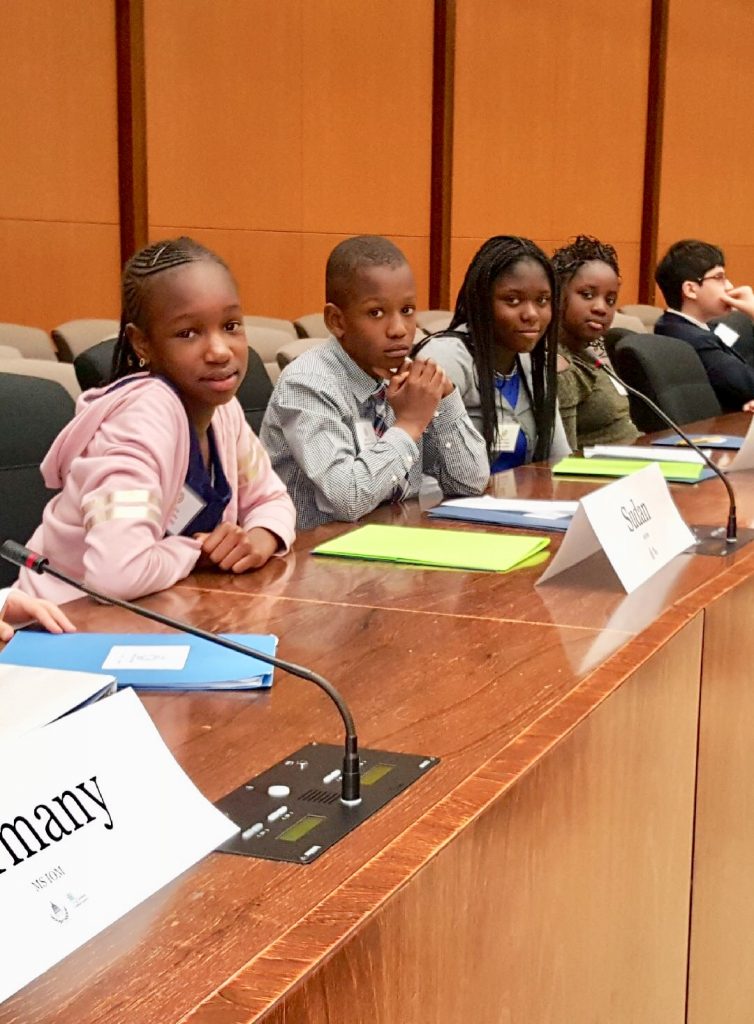 Global Woman P.E.A.C.E. Foundation thanks Inter-African Committee-USA for extending the invitation in a joint effort, for the second consecutive year.
Comments and questions to info@globalwomanpeacefoundation.org or call (703) 832-2642