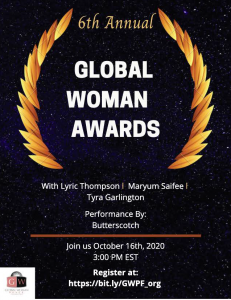 Where are the days going?  Can you believe we are only a few days to the event?  Time is rapidly approaching – yes, it is only 3 days until the Global Woman Awards and 4 days from the Walk To End FGM (#walk2endfgm).  It is still not too late if you have not yet registered.  Get prepared!  Register at https://www.wizathon.com/walk2endfgm/, and be a part of a memorable event.  Please text your donations in advance to (571) 336-0030.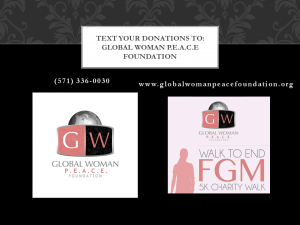 Now that we have featured all 10 of our awardees, we feature our distinguished speakers today.  Meet our distinguished speakers of the 2 days today, Tuesday, October 13th: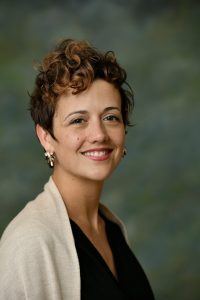 Our Friday Keynote Speaker is Lyric Thompson, who is the Senior Director of Policy and Advocacy at the International Center for Research on Women (ICRW). In this capacity, she leads the institution's formulation of evidence-based policy recommendations and oversees ICRW's advocacy efforts with the U.S. Government and internationally. She is an adjunct professor at the George Washington University, where she teaches a graduate level course on women's rights advocacy.  In August of 2019, Lyric was nominated by Governor Roy Cooper to the North Carolina Council for Women.   In Washington, Lyric leads or is a member of a number of advocacy coalitions on women's rights issues.  She is on the Editorial Board of Apolitical and writes regularly on gender and foreign policy for such outlets as Foreign Policy, Devex, Ms. Magazine, The Hill, Thomson-Reuters Foundation and open Democracy. She has media experience in television, print and radio news, including Voice of America, Al Jazeera and The New York Times.  Lyric brings more than ten years of experience in global gender and development issues, including women, peace and security; women's economic empowerment; violence against women; child marriage and adolescent girls' issues. She has advocated for gender-equitable policies at the United Nations, the World Bank, the White House, State Department, Department of Defense, USAID and on Capitol Hill.  Previously, Lyric served for five years as a primary expert and strategist for Amnesty International USA's women's human rights program, as senior policy manager at Women for Women International and as a project manager for overseas development contracts at DAI.  In both 2018 and 2019, Lyric was named as one of the Gender Equality Top 100 by the public policy platform Apolitical. In 2016, Lyric was honored by Professional Women in Advocacy for Excellence in a Campaign for Women Serving Women, recognizing her leadership advocating with the U.S. government for the world's first piece of foreign policy dedicated to the rights and empowerment of adolescent girls. In 2011, Diplomatic Courier Magazine named her among the "Top 99 Under 33 Young Professionals Impacting Foreign Policy".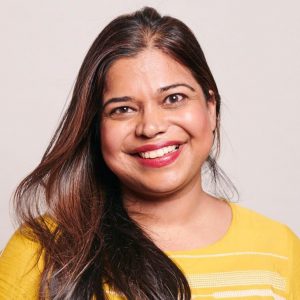 Our Friday Guest Speaker is Maryum Saifee, who is a women's rights activist and leading voice in the movement to advance gender equality and in particular, bring about an end to Female Genital Mutilation.  She is speaking in her personal capacity. Most recently, Saifee was a Council on Foreign Relations International Affairs Fellowship where she advised the Human Rights Foundation, a global network of dissidents and citizen journalists from authoritarian regimes, on strategy and advocacy. Saifee was a career U.S. diplomat for over a decade. She began her career during the Arab Spring where she was the deputy cultural attaché at the U.S. Embassy in Cairo.  She managed and oversaw over two dozen exchange programs.  Saifee also served in Baghdad during the U.S. military withdrawal where she interviewed Iraqis seeking emergency immigrant visas because their lives had been threatened as a result of working for the U.S. government.  After Baghdad, she worked in the U.S. Consulate in Erbil developing a strategy for the rollout of consular services. Saifee then served as a policy advisor in various capacities throughout the U.S. Department of State.  Saifee covered regional organizations for the Middle East in the Bureau for International Organization Affairs where she oversaw the implementation of the first cooperative agreement between the Arab League and State Department around education, entrepreneurship, and peacebuilding.  She worked on gender policy for the Secretary's Office of Religion and Global Affairs and served as a senior advisor in the Secretary's Office of Global Women's Issues where she covered gender-based violence and the intersection of gender, religion, and peacebuilding. In her personal capacity, as a survivor of Female Genital Mutilation, Saifee has led strategy on campaigns to end FGM in the United States.  Prior to the Foreign Service, Saifee was a Peace Corps Volunteer in Jordan and an AmeriCorps Volunteer in Seattle.  She has consulted for the Ford Foundation, Women Deliver, Acumen Fund, and the United Nations. Saifee is a graduate of Columbia University's School of International and Public Affairs and was a recipient of the State Department's Superior Honor Award.  She is a 2019 Presidential Leadership Scholar.  Her advocacy work has been featured in The Guardian, Ms. Magazine, Council on Foreign Relations' blog, Al Jazeera, National Public Radio, and The Economist.  She is the recipient of the 2019 Global Woman Awards in the category of "Survivor Activist".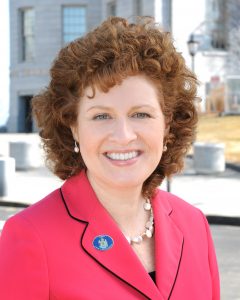 Our Saturday Keynote Speaker is Heather Sirocki, who is a Former American politician who served in the Maine House of Representatives since from 2010 until 2019, from the 28th District.  A Massachusetts native, Former Representative Sirocki has lived in Maine since 1970 and in Scarborough since 1984.  She also served on the Substance Abuse Services Commission and on the Maine Children's Growth Council and the Maine Children's Justice Taskforce.  In the 128th Legislature, Sirocki was named to the Appropriations and Financial Affairs Committee for the second consecutive term where she will continued to play an integral role in helping to map out the state's spending plan until she left office.  She worked tirelessly to get FGM criminalized in the U.S. State of Maine, but unfortunately, her efforts were unsuccessful.  The Bill to have FGM criminalized in Maine failed to pass three times, and each time, Sirocki was relentless in supporting the Bill.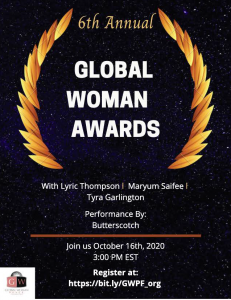 Global Woman Awards – Friday afternoon, October 16, 2020:
We will collaborate with SheFFA Foundation and George Washington University in collectively honoring 5 women, 4 men and a secondary school student.  They will receive the Global Woman Award in 9 different categories.  To read about all of our 2020 honorees, visit https://www.wizathon.com/walk2endfgm/?id=4945.
Friday Itinerary:  3:00p.m. Global Woman Awards, Keynote Speech from Lyric Thompson of ICRW, a speech from Maryum Saifee, and musical entertainment from vocalist "Butterscotch" and jazz vocalist and musician, Benjamin Caesar.
Friday afternoon emcee:  Tyra Garlington, International Talk Show Host
Friday Location:  Virtual Zoom livestream broadcast – link and e-program have been provided since last week.  Check your email inbox for link and e-program, and check your SPAM folder if you do not have it yet.


Walk To End FGM – Saturday morning, October 17, 2020:
Former Maine State Representative, Heather Sirocki is our Keynote Speaker of the day, and we will be joined by guitarist and vocalist, Royce Lovett, who will serenade us before we take to the streets in our respective communities to safely walk, observing the social distancing requirements.  We hope you will join us. To read about our 2020 speakers, entertainers and Emcees, visit https://www.wizathon.com/walk2endfgm/?id=4946.
Saturday Itinerary:  Pre-walk program starts at 10:00a.m. – the walk starts at 11:30a.m. Please take photos and/or videos of you walking and post them to our Facebook page.  We will compile a collage in memory of the year 2020 when our lives changed, and every life that was lost to COVID-19.
Saturday morning emcee:  Linord Moudou, International Talk Show Host
Saturday Location:  Virtual Zoom livestream broadcast – link and e-program is now being provided this week.  Remember to check your email inbox for link and e-program, and check your SPAM folder if you do not have it yet.
Special Saturday Prizes to:  Teams that raise the 4 highest amounts.  Competing in the Top 4 spots are Team Jacqui Olkin, Team Marin Hoang, Team Karen McDonnell, and Team Diane Walsh.  We have great special prizes this year.  It is not too late to form a team or join one.  Get in on the competition!  You may select the number of miles or kilometers you will walk, and get your local merchant(s) to sponsor each mile with a dollar amount to help us raise funds.  Text your donations in advance to (571) 336-0030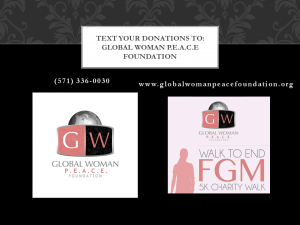 Ways to Participate
Form a team and invite others to join your team and help raise funds
Join a team that is already formed
Register as an individual participant
Sponsor a team or an individual participant or sponsor the event
Be a Partner Organization with Global Woman P.E.A.C.E. Foundation in the Walk to End FGM


Contact us at info@globalwomanpeacefoundation.org or call 703-832-2642.  Also register at www.globalwomanpeacefoundation.org and Walk To End FGM.  Text your donations in advance to (571) 336-0030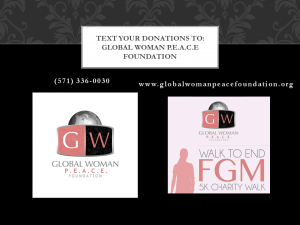 Don't Miss Out!!!
********We are reminding you to register if you have not done so******** 
The proceeds raised from the Walk To End FGM are used to support the mental and physical health of survivors of FGM/C, including group and one-on-one counseling. Proceeds will also help keep Liberian and Sierra Leone girls in school to prevent them from undergoing FGM/C. To read about our 4 programs visit https://www.wizathon.com/walk2endfgm/?id=4940.


Thank You for Your Support!
Global Woman P.E.A.C.E. Foundation is a registered 501c3 non-profit organization with the U.S. Internal Revenue Service.  As such, your donations and registration fees are tax deductible to the maximum extent required by law.